CD-Reviews A-D
BIRDFLESH – All the Miseries (EP) (2021)
(7.178) Jezebel (8,0/10) Grindcore
---
---



Birdflesh sind, falls man diese Band noch vorstellen muss, Schwedens beste und lustigste Grindcore-Band. Seit 1992 treiben sie ihr Unwesen, spielen überall, wo man sie lässt und sind in all den Jahren weder leiser noch langsamer oder erwachsener geworden…. und das ist gut so.

Auch auf dem aktuellen Rundling "All The Miseries" tun sie genau das, was sie am besten können, nämlich groben musikalischen Unfug, bei dem das Tanzbein zuckt. Das klingt nach Sommerfestivals, nach dem traditionellen Frühstücksgrind. Man bekommt sofort gute Laune, möchte aufspringen und, geschüttelt von Lachsalven, sinnlos im Kreis rennen. Die Eckdaten von "All The Miseries" lauten: 24 Titel, 13 neue und 11 Bonus-Livetracks, insgesamt gerade mal knapp 27 Minuten, daher gilt das als EP.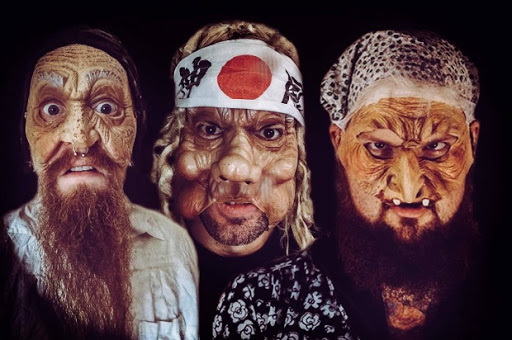 Bei allem Klamauk und aller Kurzweil sollte man aber nicht übersehen, dass die drei Kollegen ihr Handwerk verdammt gut verstehen. Das ist eine Kunstform, so kurze Songs zu schreiben, die in sich funktionieren und catchy sind. Da muss jeder Ton stimmen, weil man sich nicht über die Bridge und die nächste Strophe retten kann, um von einer schwächeren Passage abzulenken. Der Humor trifft genau den Punkt zwischen total absurd und irgendwie unschuldig.

Ich kenne mich mit der etwas unübersichtliche Diskographie von Birdflesh nicht im Detail aus, deswegen kann ich nicht einschätzen, wie sich "All The Miseries" da einfügt, ob die neuen Songs unter Sammlern als besseres oder eher durchschnittliches Material gelten wird. Alleinstehend für sich gesehen ist das ne coole Scheibe, die ein wenig über die ausgefallenen Festivals hinwegtrösten kann.
---
Bewertung: 8 von 10 Punkten
---
01. Gore Ensemble
02. High On Carnage
03. Radioactive Madness
04. The Head of a Skull
05. Spinebreaker
06. People of the Leprosy
07. Sloughterchild
08. Dying after Midnight
09. Pissboy
10. Kickstart My Ass
11. Sayonara Sensei
12. Inked Death
13. Hell Satan Bro Stalker
14. Crazy Nights (Live)
15. Countless Mayhem (Live)
16. Milkshake is Nice (Live)
17. Alive Autopsy (Live)
18. Caligoulash (Live)
19. Teenage Mutilator (Live)
20. Gut to Kill (Live)
21. Victim oft he Cat (Live)
22. Anal Misery (Live)
23. The Flying Penis (Live)
24. Coffinfucker (Live)
---
---
---