CD-Reviews Q-S
SAXON – Carpe Diem (2022)
(7.612) Christian (9,6/10) Heavy Metal
---
---



Mönsch die gibs ja auch noch! Saxon heiliger bimbam die Altvorderen von der Insel hatte ich ja gar nicht mehr auf dem Schirm. Und Schwups, da sind'se wieder als wären sie nie weg gewesen. Super! Das wievielte Studioalbum ist das den jetzt? Ach, ist ja auch Wurst.

Der neue Dreher heißt "Carpe Diem" und wartet mit neuen 10 Tracks auf. Das ist ja schon mal was. Los geht's auch gleich ziemlich flott mit den Titeltrack "Carpe Diem (Seize the Day)". Wobei, er fängt ja erstmal ziemlich ruhig an! Aber dann ja, aber dann geht's mit nem schönen treiben Riff richtig geil los. Echt super.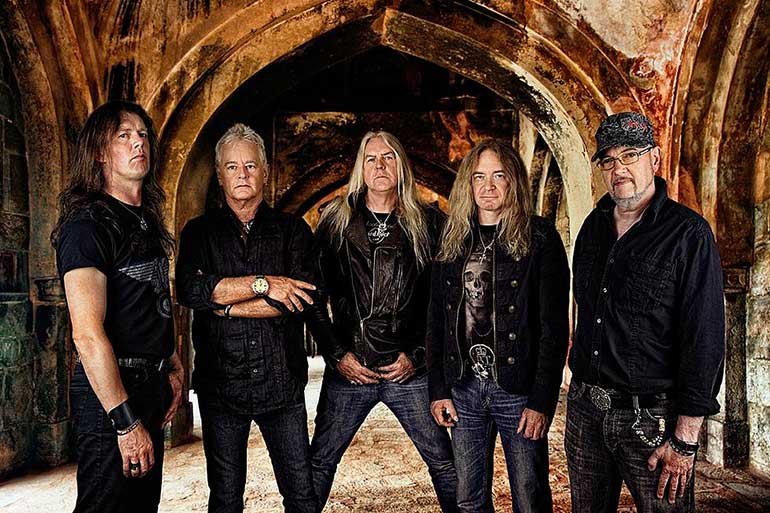 Und wo wir schon bei super sind, geht super weiter. "Age of Steam" schöne Doublebass Nummer mit prima Soli. Verdammt Heavy das Teil. Als nächstes kommt mit "The Pilgrimage" einer meiner Lieblingssongs auch dieser Scheibe. So unfassbar starke Nummer hab ich von Saxon lange nicht gehört. Sehr gefühlvoll fast zerbrechlich und dennoch stark und eindringlich. Echt bärenstark. Ich bekomm hier gleich Schnappatmung.

Die geben hier weiter richtig Kniegas! "Dambusters", "Remember the Fallen", "Super Nova" Bämm….. Von wegen alte Männer, da können sich so manche Jungspunde mal ne ordentliche Scheibe von abschneiden.
Sie haben's einfach immer noch drauf. Die Songs klingen frisch und keineswegs altbacken. Der Sound ist schön knackig und der gute Biff fantastisch bei Stimme! Und ihr Pulver haben sie auch noch nicht verschossen. Auch die restlichen Songs auf dem nunmehr 23. Album zünden wie ne Sylvester Rakete und machen einfach nur mächtig viel Spaß.

Anspieltipps: Sucht euch was aus! Sind alle ziemlich geil!
---
Bewertung: 9,6 von 10 Punkten
---
01. Carpe Diem (Seize the Day)
02. Age of Steam
03. The Pilgrimage
04. Dambusters
05. Remember the Fallen
06. Super Nova
07. Lady in Gray
08. All for One
09. Black is the Night
10. Living on the Limit
---
---