CD-Reviews Q-S
SWALLOW THE SUN – 20 Years Of Gloom, Beauty And Despair – Live in Helsinki (2021)
(7.304) Patrick (-/-) Death / Doom Metal
---
Label: Century Media Records
VÖ: 30.07.2021
Stil: Death / Doom Metal
---
­
­
­
­
Bekanntlich bin ich ja nicht so der enthusiastische Doom Metal Freak, aber mit Bands wie z.B. CANDLEMASS, MY DYING BRIDE, oder….um mal im eigenen Land zu bleiben…..mit den deutschen Funeral Doomern ASCIAN und den etwas metallischeren OLD MOTHER HELL stehen auch bei mir einige Vertreter dieses Genres ganz hoch im Kurs. An der Spitze der vertonten Traurigkeit thronen bei mir aber seit vielen Jahren die finnischen Melancholie-Könige von SWALLOW THE SUN, die gerade mit ihrem letzten Album "When A Shadow Is Forced Into The Light" aus dem Jahre 2019 eine der besten, von mir meistgehörten und intensivsten Scheiben des neuen Jahrtausends veröffentlich hat.
Nun feierte die Band kürzlich ihr 20jähriges Bestehen und zelebrierte dieses Ereignis in einer eindrucksvollen Liveshow, welche nun in Form von "20 Years Of Gloom, Beauty And Despair – Live in Helsinki" auch für den heimischen Plattenteller bzw. für den DVD-Player erschienen ist.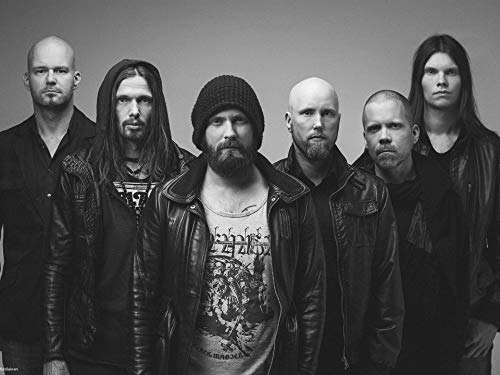 Nun, Live Alben sind prinzipiell eine Sache, an der sich ein wenig die Geister scheiden. Der eine mag es und verschafft sich in einer Art "Best Of" einen Überblick über das musikalische Wirken der Band, der andere schwört lieber auf die regulären Studioalben. Oftmals halte auch ich selbst ein Live Album für überflüssig, aber manchmal findet sich doch die ein oder andere Perle unter den veröffentlichten Dokumentationen publikumsnaher Musik und genau in diese Kategorie fällt auch "20 Years Of Gloom, Beauty And Despair – Live in Helsinki".
Dieses Album teilt sich in zwei Teile. Den Auftakt macht die komplette Darbietung der "Songs From The North Part II" in voller Länge. Hier wird die musikalisch recht reduzierte Band von einem professionellen Streicherquartett begleitet, was in einigen Momenten für eine unglaublich intensive Gänsehaut sorgt. Ein glasklarer Sound, ein…der Aufführung entsprechend…verhaltenes Publikum und ein Mikko Kotamäki, der unglaublich gut bei Stimme ist zeichnen diese eher ruhigen, aber umso wirkungsvolleren Klänge purer Traurigkeit aus. Acht Songs zum einfach nur dahinschmelzen, zum Genießen, zum Weinen, Acht Songs, die zum völligen Kontrollverlust über das eigene Sein führen und in denen man sich völlig verlieren kann. Großartig.
Teil 2 ist nicht minder großartig und wartet mit einer fabelhaften "Best Of Setlist" auf, welche per Fan Abstimmung zusammengestellt wurde. Los geht es mit "Lost & Catatonic" und ab hier wird dann auch die schwere, zäh dahinkriechende Doom Metal Keule ausgepackt. Weiter geht es mit absoluten Bandklassikern, angefangen bei "Falling World" vom 2009er Album "New Moon", geht über "Don´t Fall Asleep Part II" von der 2007er Scheibe "Hope", streift ein paar noch ältere Stück und schließt schließlich den Kreis mit fantastischen Darbietungen von "Stone Wings" und "Here On The Black Earth" vom eingangs erwähnten Götteralbum aus dem Jahre 2019.
SWALLOW THE SUN bieten hier über knapp 120 Minuten absolutes "Value for Money" und die komplette Vollbedienung in Sachen Melancholie, welche den Hörer in wohliger Traurigkeit dahinschwelgen lassen. "20 Years Of Gloom, Beauty And Despair – Live in Helsinki" ist ein selten geniales Livealbum einer unfassbar grandiosen Band geworden. Unbedingte Kaufempfehlung.
Anspieltipps: "Falling World" und "Stone Wings"
---
---
Tracklist:
CD 1
01. The Womb Of Winter
02. The Heart Of A Cold White Land
03. Away
04. Pray For The Winds To Come
05. Songs From The North
06. 66,5'N,28,40'E
07. Autumn Fire
08. Before The Summer Dies
CD 2
01. Lost & Catatonic
02. Empires Of Loneliness
03. Falling World
04. Cathedral Walls
05. Plague Of Butterflies, Pt. II
06. Don´t Fall Asleep (Horror, Pt. II
07. Stone Wings
08. The Giant
09. Swallow (Horror, Pt. I)
10. Here On The Black Earth
---
---
---