CD-Reviews N-P
NASTY SAVAGE- Wage of Mayem + Rarities (2021)
(7.444) Vinzenz (o.B.) Thrash Metal
---
---



Vor einigen Tagen habe ich diese Hammer CD mit der Neuauflage des "Wages of Mayem" Demos von 1984 + einigen Raritäten und 3 Gitarrenplektren, direkt von Nasty Savage Gitarrist David Austin zugeschickt bekommen. Instagram ist also doch nicht so unnütze, denn David hat dort das offizielle Bandprofil inne.

Die Songs sind wie eine Zeitreise in die 80er und in die Hochzeit des Thrash Metals. Mehr old school Feeling geht nicht!!! Alleine die 4 Songs des "Wage of Mayem" Demos, "Unchained Angel", "Savage Desire", "Witches`s Sabbath" und "XXX" sind den Kauf dieser Scheibe wert.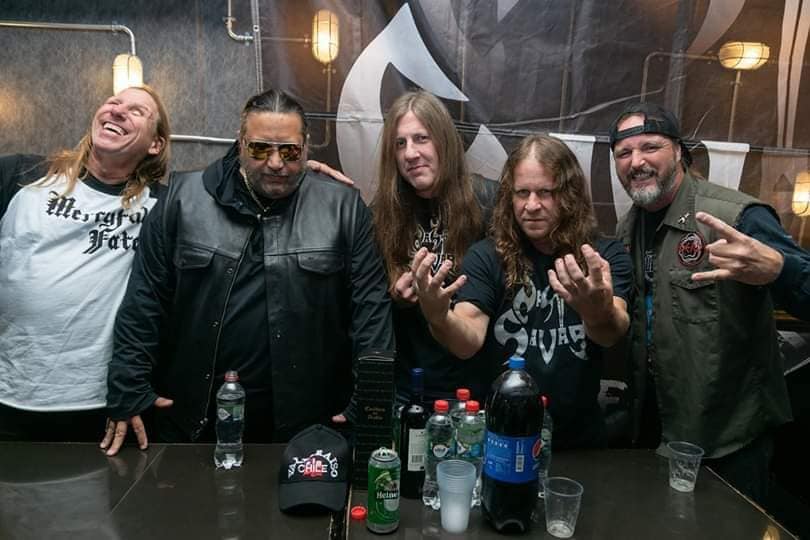 Hier wird von Anfang bis Ende reinster old school Thrash Metal geboten, der selbst in der remasterten Version immer noch klingt, als hätte er 30 Jahre unter einer dicken Staubschicht verbracht. Nasty Ronny`s Organ ist unvergleichlich und war damals schon einzigartig. Die Rarities Bonustracks knallen ebenfalls gut aus den Boxen.

Die drei Livesongs klingen wie man es erwartet, im dumpfen Bunkersound. Aber genau das macht diese Scheibe aus. Und ja, dafür habe ich gerne das Geld ausgegeben, um diesen Import Schatz in die eisernen Finger zu bekommen. Ihr könnt diese CD bei Nameless Grave records online bestellen. Kaufpflicht!!
---
---
Wages of mayem Demo 1984
01. Unchained angel
02. Savage desire
03. Witches`s Sabbath
04. XXX
Live at Ruby`s Pub Florida 1984
05. Vigilante
Rehearsals 1984
06. Way of the Warlock
07. Illusion
08. Nasty Savage
09. High School Lover
Live at CBGB`s 1985
10. Unchained angel
11. Savage Desire
---
---