CD-Reviews Q-S
SCARECROW – Splatterpunk (2021)
(7.298) Marky (8,7/10) Thrashy Horror Punk
---
Label: Inverse Records / 82 Records
VÖ: 06.08.2021
Stil: Thrashy Horror Punk
---
­
­
­
­
Vorsicht Metalheads, bitte nicht abschrecken lassen von den Beschreibungen "Thrashy Horror Punk". SCARECROW aus Finnland lassen auf ihrem 6. Longplayer "Splatterpunk" so richtig die Puppen tanzen und kredenzen dem geneigten Hörer ein meist schnellen Horror Punk, der nur selten mal von Gas geht. Daher dürfte der Sound von SCARECROW auch jedem Metal Fan gefallen, der es heftig und eingängig mag.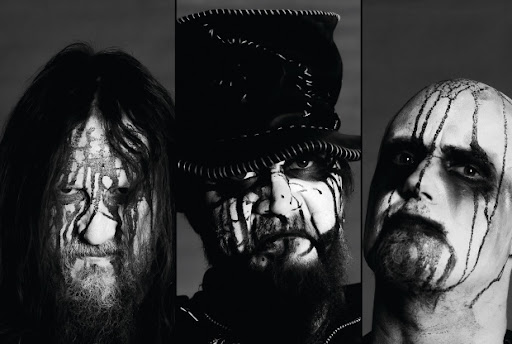 Für mich klingt "Splatterpunk" auch härter als ihre Hitplatte von 2016 "Exterminators of the year 4000", die noch wesentlich mehr nach Punkrock klang und die ich immer noch sehr gerne höre. Nehmen wir zum Beispiel den Song "ZMB4" von der neuen Platte. Das prügelt so ordentlich in den Schädel, was MISFITS zu ihren besten Zeiten zu "American Psycho" auf Vinyl zauberten. Hier regiert Highspeed Thrash/Punk und Sänger Jack13 growled und krächzt, als ob es keinen Morgen gäbe.
Natürlich sind auch punkige Singalongs wieder am Start wie z. B. zu "ZMB1" oder "Don´t Worry, We Just Die". SCARECROW gehen es aber auch mal gemäßigter an wie bei "Nothing In The Mirror". Hier gibt es gar Keyboardklänge zu hören, die dem Song einen gewissen Gothic Touch verleihen. Den Abschluss bildet ein recht melodischer Punkschunkler, der "Splatterpunk" zu einer gelungenen Abrundung, einer recht schnellen und heftigen Platte verhilft, die auch viel Abwechslung beinhaltet.
Anspieltipps: "ZMB4", "ZMB1" und "Mark Of The Werewolf"
---
Bewertung: 8,7 von 10 Punkten
---
Tracklist:
01. Stand UP And Die
02. Mark Of The Werewolf
03. Witchfuck
04. ZMB1
05. Skull Of Antichrist
06. Don´t Worry, We Just Die
07. ZMB2
08. In The Name Of Nothing
09. Nothing In The Mirror
10. ZMB3
11. Breathing Death
12. What´s The Devil To Do
13. Gruesome Twosome
14. Master Of Chaos
15. ZMB4
16. Nocturnal Bird
---
---
---