---
CD-Reviews Q-S
RAVAGER – The third attack (2021)
(7.153) Olaf (8,7/10) Thrash Metal
---
---



Drei Alben in vier Jahren ist eine beachtliche Schlagzahl für solch eine junge Band, die bei uns mit ihrem Debüt einen noch recht holprigen Start hinlegten, lediglich 3,5 Punkte ergatterten, mit dem Zweitwerk "Thrashletics" zumindest bei mir die richtigen Knöpfe drückten und sich nun mit dem passend betitelten "The third attack" freigeschwommen haben. Die Bande aus der Vogelpark-Stadt (was habe ich es dort als Kind gehasst…) hat abgeliefert und das mehr als amtlich.

Inklusive des gezockten Intros und dem leider etwas sperrigen und achtminütigen Rausschmeißer komme ich auf 8 absolute Burner, die allesamt in meiner Playlist gelandet sind, einen dicken Kniefall vor dem Ostküsten Thrash der späten Achtziger machen und mächtig in die Patellasehne fahren. Reif sind sie geworden, die Bengels, und sie wissen genau, was sie wollen: Thrash 'til death! Es gibt formidabel direkt in die Fresse, rasende Riffs und Frontbarde Philip Herbst hätte auch gut und gerne bei Exodus eine Chance verdient. Herrlich, wie der Kerl da vor sich hin brüllt…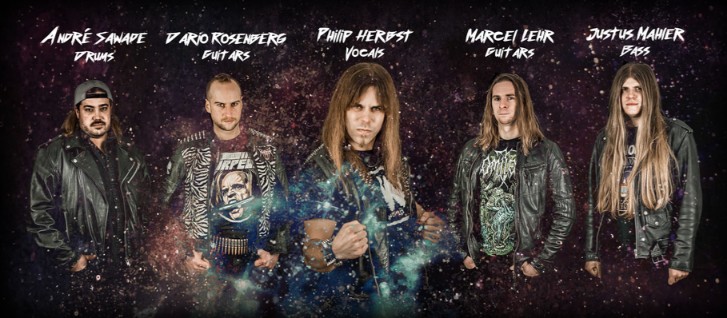 Was mich am meisten bei diesem extrem treibenden Album begeistert sind die Ohrwurm Refrains in Stile alter Overkill Songs, die man nach zwei-bis dreimaligem Hören sofort mitbrüllen kann. Beispiele gefällig? "Planet hate", "Back to the real world", dass etwas tiefer gestimmte "My own worst enemy" und der Mega Speeder "Beyond reality". Da werden einem die Falten aus dem Sack gebügelt und meine auf Balkonien gepflanzten Erdbeeren stehen trotz mangelnder Wasserzufuhr wieder von ganz alleine. Die Produktion könnte noch ein wenig mehr Druck vertragen, doch bei dem vorhandenen Songmaterial ist das Jammern auf Champions League Niveau.

Das Album macht Spaß wie Sau, hört sich prima durch, hat viele Tempiwechsel, ist abwechslungsreich, ist gut ausbalanciert und klingt alles in allem reifer, erwachsener. Ich bin froh und happy darüber, dass es gerade in Deutschland so granatenstarken Thrash Nachwuchs gibt wie Ravager einer sind. Die Zukunft ist mehr als nur gesichert!
---
Bewertung: 8,7 von 10 Punkten
---
01. Intruders
02. Planet hate
03. Back to the real world
04. Priest of torment
05. A plague is born
06. The third attack
07. Beyond reality
08. My own worst enemy
09. King of kings
10. Destroyer
---
---
---
---
FESTIVAL TIPS 2021
Tja...wohl doch erst wieder 2022...
---
---