KAMIKAZE KINGS | ICARUS DOWNFALL | AND THERE WILL BE BLOOD
04.04.2014 - Schwerin @ Dr.K
Alle Jahre wieder gibt es Anfang April die Geburtstagsfeier des Intruder HRC Schwerin im Dr. K . Dieses Jahr hatte man sich die Kamikaze Kings, Icarus Downfall und And There Will Be Blood eingeladen.

Aus Osnabrück kam die Band And There Will Be Blood um die Party des Intruder HRC zu eröffnen. Nach kleinen technischen Problemen begannen die Mannen um Sänger Lars fast pünktlich auf die Minute. Langsamer Metalcore in ganz ansprechender Art würde ich die Sache mal beschreiben, für das anheizen der Gäste der Party gut geeignet. Viele Songs waren mir persönlich aber zu langsam, eintönig und teilweise zu hip hop lastig. (aber glücklicherweise sind die Geschmäcker ja verschieden) Alleine "Cocktail of humanity" und "Reality Check" gingen da schon mächtig ab und konnten mich überzeugen.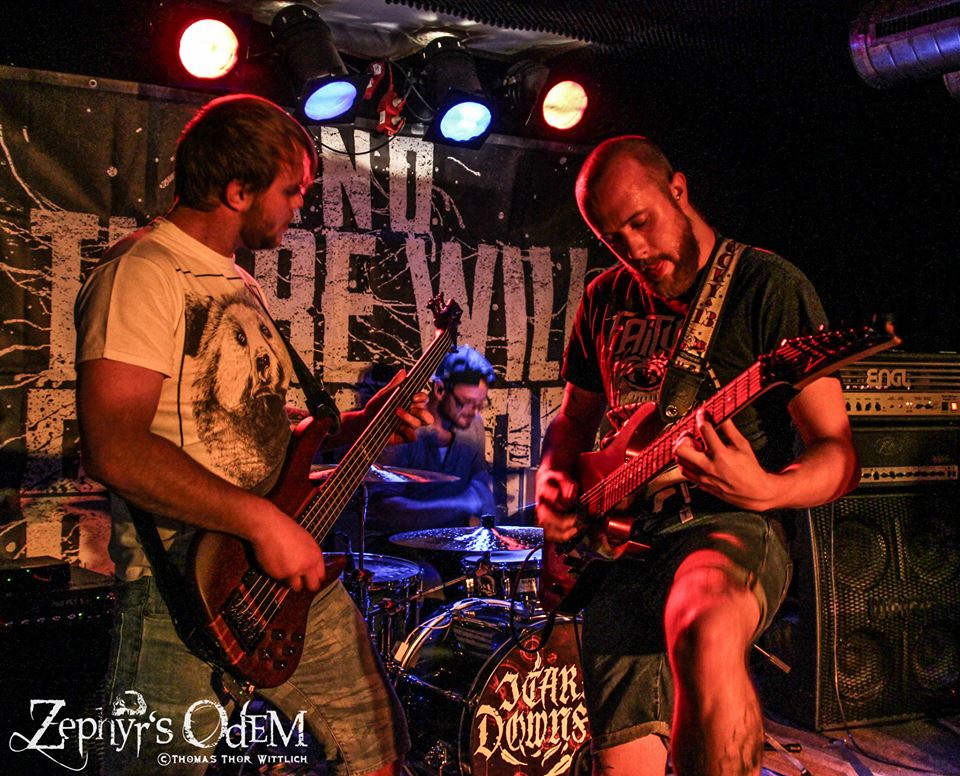 Setlist
1. Reality Check
2. Hello World.java
3. Cocktail of humanity
4. Meet the / Cat the
5. Dreamdancer
6. Achlouphobia
7. Up`s & Down`s
8. Bloodimir
Die Überraschung des Abends war für mich die Münsteraner Icarus Downfall. Mit brechenden Gitarrenriffs knallten die Jungs (und Mädel) dem verblüfften Publikum einen Song nach dem anderen um die Ohren. Ein Mix aus melodisch groovigem Metalcore mit aggressiven Passagen brachte die Leute vor der Bühne zum moshen und bangen. Neben größtenteils Stücken vom aktuellem Album "Elements" (Sept.2013) gab es auch ältere Sachen wie das hämmernde "No need to save my soul" oder als Zugabe das fast schon melancholische "Funeral for a friendship". Eine fast unerträglich Hitze entstand im Dr.K , was wiederum die Mannschaft um Berry hinter dem Tresen zur Höchstform auflaufen ließ. Cooler Gig kann man nur sagen. Wir werden die Band im Auge behalten.

Setlist
1. On molten Wings
2. My Paradise
3. No need to save my Soul
4. Innocent Diamaond
5. Doomed
6. Forever alone
7. The journey ends
8. Funeral for a friendship
Viele Leute waren hauptsächlich wegen der
Kamikaze Kings
gekommen. Bringen sie doch durch ihre Outfits und die jederzeit spürbare Lust zum Rock`n Roll jede Party zum kochen. Auch dieses Mal war es nicht anders. Von Beginn an tanzen und rockten die KK Fans vor der Bühne ab, sangen viele Songs mit und erfreuten sich an der pompösen Bühnenpräsens der Band. Leider verließen aber auch einige Leute die Veranstaltung, teils murrend, engstirnig und ziemlich "angeschossen", aber das machte den Kings und ihren Fans nichts aus. Alte und neue Songs (wie "
Master or Slave
" – das Musikvideo erscheint voraussichtlich Ende Mai), eine glänzend aufgelegte Lady J., und die schon beängstigende Professionalität der Band machten die Party zu einem tollen Erfolg und die Mitglieder des Intruder Hardrockclubs freuten sich zum Abschluss auf ein gemeinsames Foto mit den Kamikaze Kings.
Einige Leute trafen sich dann anschließend zur Aftershowparty im Rock Palast, wo die Partynacht gebührend ein lustiges Ende fand.
Setlist

01. I Rule the night
02. Blackdoor Philosophy
03. Love for Sale
04. Rock`n Roll Sacrilege
05. Boy`s `n` men
06. Love is for suckers
07. She`a rocker
08. Wolfbiker
09. Boneshaker
10. Steel on steel
11. I Wanna rock
12. Saturday night hero
13. Master or Slave
14. Fat slut
15. Devils rodeo
16. Midnight killer
Fotogalerie auf Facebook