CD-Reviews A-D
CROWBAR – Zero And Below (2022)
(7.672) EmZett (6,0/10) Sludge Metal
---
Label: MNRK Heavy
VÖ: 04.03.2022
Stil: Sludge Metal
---




Wenn Metal Archives seine Registratur korrekt führt, kredenzen uns New Orleans Finest CROWBAR mit "Zero And Below" das zwölfte full-lenght-Album ihrer mittlerweile über 30-jährigen Bandkarriere. Diese brachte bekanntermaßen diverse hochkarätige Veröffentlichungen mit sich, wie z.B. "Broken Glass" oder auch "Odd Fellows Rest", um nur zwei zu nennen. Die für meinen Geschmack letzte existentiell äußerst gelungene Platte war "Sever The Wicked Hand" aus dem Jahr 2011. Alles andere danach riss viele Leute nicht mehr wirklich vom Sludge-Hocker. Mithin war ich, wie sicher auch viele andere langjährige Fans von CROWBAR , äußerst gespannt, ob die Band nach mehrjähriger Funkstille nochmal die Kurve kriegt.

Um es kurz zu machen: Es gelingt ihnen in meinen Augen leider nicht. Natürlich enthält "Zero And Below" sämtliche Trademarks und Ingredentien, die CROWBAR unverwechselbar machen. Sehr rifflastige Downtempo-Songs, ein guter Groove, Kirk`s markante, oft leidende Viocals und ein oberamtlicher Sound. So weit, so gut.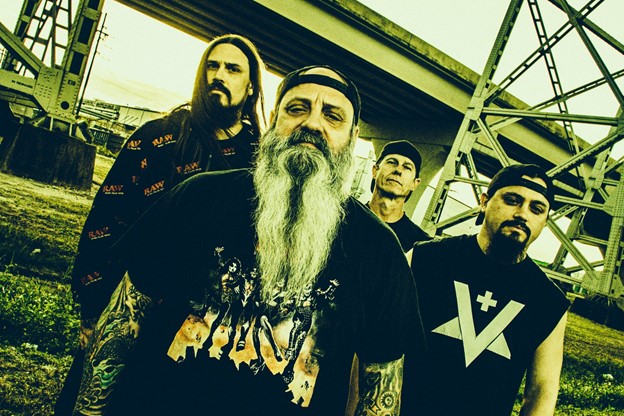 Unterm Strich stellt sich letztendlich aber ein zu großer Wiederholungseffekt ein. Zu gleichförmig, teilweise monoton brezeln die 10 Songs an mir vorbei. Nichts bleibt wirklich hängen. Es macht sich der Eindruck breit, daß Mr. Windstein mittlerweile die Ideen ausgehen, was ich aber nach so langer Zeit des Bandbestehens keinesfalls als Vorwurf verstanden wissen will. CROWBAR schaffen es jedenfalls zu keiner Zeit auf "Zero And Below" solche Karriere-Monster-Songs wie "Broken Glass", "Planets Collide" oder "Cemetary Angels" auf den Amboss zu hämmern.
Der geneigte CROWBAR-Alles-Konsumierer wird sich das neue Album sicher schön hören und reden, aber essentiell ist das definitiv nicht. Es würde völlig ausreichen, wenn die Herren, mit ihrem beeindruckenden Backkatalog im Rücken, nur live spielen und auf weitere Platten verzichten würden. Ein persönlicher Wunsch meinerseits, der auch auf die eine oder andere große alte Band zutrifft.

Anspieltip: "Bleeding From Every Hole"
---
Bewertung: 6,0 von 10 Punkten
---
01. The Fear That Binds You
02. Her Evil Is Scared
03. Confess To Nothing
04. Chemical GODZ
05. Denial Of The Truth
06. Bleeding From Every Hole
07. Its Always Worth The Gain
08. Crush Negativity
09. Reanimating A Lie
10. Zero And Below
---
---