N-P
NITE – Voices Of The Kronian Moon (2022)
(7.699) Maik (7,9 /10) Heavy Metal
---
Label: Season Of Mist Records
VÖ: 25.03.2022
Stil: Heavy Metal
---
­
­
­
­
­Manchmal wird man eben doch noch überrascht. Dachte ich bei den ersten Takten dieser Platte noch an lieblichen Hard Rock oder melodischen Metal, spitzten sich dann doch meine Ohren, als der Gesang einsetzte. Denn der würde fast besser zu einer Black oder Dark Metal- Band passen. Rauchig grollend, fast einer Art Powerflüstern gleich, gesellen sich die Vocals zu klassischen Metalklängen. Es klingt fast, als hätte Lemmy aus dem Jenseits die Vocals per Telefon eingesungen.
Dies ergibt dann eine recht ungewöhnliche Mischung, denn die Instrumentalisierung agiert doch eher im Bereich traditionellen Metals. Erdige Riffs, melodische Soli und all dies im Midtempobereich angesiedelt.
Nun, eine Weile geht das auch ganz gut, doch irgendwann , nämlich schon beim dritten Song "Last Scorpion", beginnt sich das Konzept ein wenig abzunutzen. Zu ähnlich werden sich da die Gesangslinien, was einen leichten Durchlaufefekt ergibt. Das wird durch das doch recht getragene, nun intonierte "Liber Ex Doctrina" noch verstärkt. Dieser Song schiebt die Mucke dann auch etwas in den Gothic-Bereich.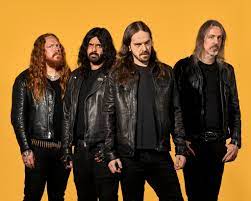 Mit "Heliopolis" nimmt die Band dann wieder etwas mehr Fahrt auf, aber so richtig Gas geben sie erst wieder mit "Thorns", der ein etwas aggressiveres, düstereres Riffing ins Gelände schraubt, sich aus der Ecke des gefälligen Heavy Metal herauslöst und eine doomig-progressive Note entwickelt.
Ebenso apokalyptisch kommt das abschließende "The Trident" daher, welches sich mit finsterem Riffing und maschinenhaftem Rhythmus fast hypnotisch ins Gehör arbeitet. Man kann also schon sagen, dass NITE alles etwas anders als andere Bands machen. Die meisten setzen ihre besten Songs an den Anfang der Platte und hoffen damit den Hörer lange genug zu fesseln, damit er sich den Rest auch anhört. Nicht so NITE. Die setzen ihre beiden stärksten Stücke ans Ende, gerade, als der unbedarfte Hörer den Gleichklang zu bemängeln drohte.
Das ist auf eine Art clever, ich wage aber einmal zu behaupten, dass das keine Absicht war. Mir scheint hier eher noch das Thema Stilfindung eine Rolle zu spielen, denn das anfängliche, eher traditionelle Metalgewand wird doch zum Ende um einiges düsterer.
Hier ist, trotz der ungewöhnlichem Mischung von Gesang und Instrumentierung, immer noch etwas Luft nach oben. Aber interessant und erfrischend anders ist die Mucke auf "Voices Of The Kronian Moon" auf jeden Fall. Vor allem für die Leute, denen die Gesänge auf den meisten Old School-Platten zu ähnlich klingen.
Anspieltipp: "Thorns" und "The Trident"
---
Bewertung: 7,9 von 10 Punkten
---
Tracklist:
01. Acheron
02. Kronian Moon
03. Last Scorpion
04. Liber Ex Doctrina
05. Heiliopolis
06. Edge Of The Night
07. Thorns
08. The Trident
---
---