---
---
CD-Reviews Q-S
ROTTING EMPIRE – Buried In The Past (2022)
(7.911) Maik (7,8/10) Death Metal
---
---



Jedes Imperium trägt seinen Verfall in sich, indem es innerlich ausbrennt, zerfällt, verfault. Angesichts dieser Tatsache wirkt ein Name wie ROTTING EMPIRE für eine Death Metal- Band recht logisch. Das hier agierende Imperium kommt aus Bayern und bedient die Sparte melodischer Death Metal. Allerdings mit ziemlich growlendem Gesang.

Die Formation besteht seit über zwanzig Jahren, und legt zehn Jahre nach dem Albumerstling "Sui Generis" mit "Buried In The Past" ihren zweiten Langspieler auf. Dieser kommt mit einem oldschooligen Artwork daher, welches simpel gehalten eine schwarz/weiß-Zeichnung zeigt, die schon mal klar macht: Mit modernem Scheiß darf hier nicht gerechnet werden.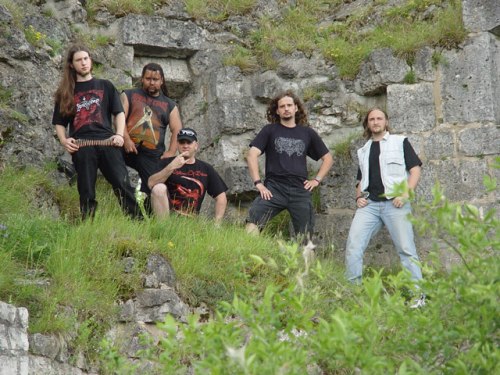 Womit allerdings auch nicht gerechnet werden darf, ist das Einreißen neuer Mauern im Bereich des Todesmetalls. Hier wird ganz einfach das gespielt, was der Fan dieser Musik erwartet. Und das ist klassischer Death Metal mit viel Melodie. Teilweise hat es etwas von alten EDGE OF SANITY, nur etwas rauer.

Dazu hat die Sache auch ordentlich Groove und drückt das eine oder andere Mal auch gut auf den Gashebel. Diese Momente könnten für meinen Geschmack etwas reichhaltiger eingesetzt werden. Brutal klingt eigentlich nur der Gesang, der ein eher kehliges Growlen darstellt, ansonsten setzen ROTTING EMPIRE eher auf eingängige Gitarrenläufe.

Gut, diese klingen teilweise von Song zu Song recht ähnlich, und man hat seine Schwierigkeiten, aus dem Album herausragende Songs zu benennen.
Das Ganze spielt sich so ziemlich auf dem gleichen, zugegebenermaßen recht hohen Niveau ab, und eignet sich gut zum gepflegten Abschädeln. Und gelegentliche langsame Momente geben dann auch alten Zombies wie mir immer wieder ein paar Ruhepausen, in denen man seine verschobenen Bandscheiben wieder einrasten lassen kann.

Alles in allem kein Meilenstein, aber dennoch solider Melodic Death mit ordentlich Schmackes. Für Brutalinskis dürften sich vielleicht zu viele melodische und langsame Parts auf dem Album befinden. Wer also eher auf Geknüppel steht, sollte vielleicht vor einem Kauf erst einmal reinhören.

Anspieltipp: "Mirror Of Society" und "Buried In The Past"
---
Bewertung: 7,8 von 10 Punkten
---
---
---
---
---
---