CD-Reviews N-P
NOUTAJA – Never Meant To Save Us (2021)
(7.291) Maik (8,3/10) Death Metal
---
Label: Inverse Records
VÖ: 20.08.2021
Stil: Death Metal
---
­
­
­
­Auch ein recht neues Outfit sind die Finnen von NOUTAJA, die nach zwei Singles nun eine erste EP via Inverse Records auf die Menschheit loslassen. "Never Meant To Save Us" heisst das Gerät, und bietet vier Songs eines relativ modern angehauchten Bastards aus Death und Black Metal.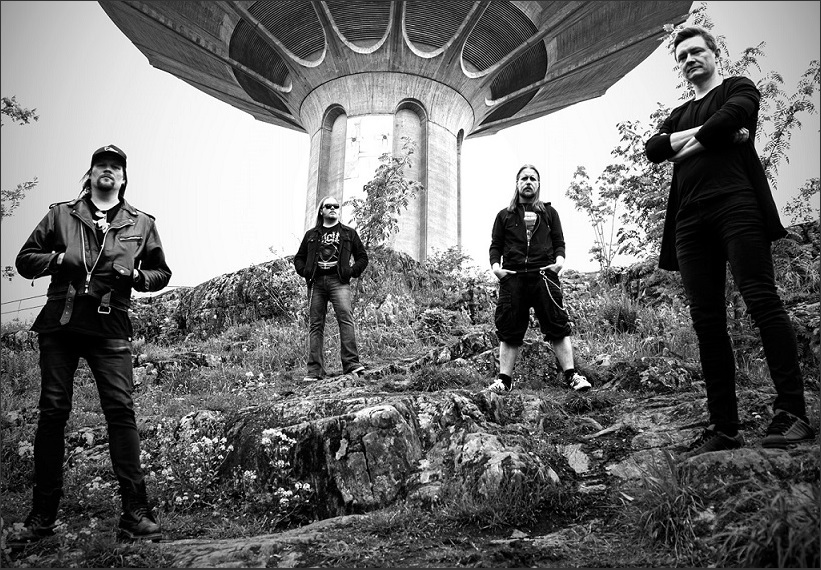 "Relativ" deshalb, weil man bei dieser Mischung an Melodic Death oder Metalcore denken könnte. Und das machen NOUTAJA eben nicht. Eher versuchen sie zwischen diesen beiden Stilen, Death und Black, und einer etwas progressiven Schlagseite ihre Nische zu finden.
Wobei der Todesmetall natürlich vorwiegt. Der Gesang ist eher im kreischigen Modus angehaucht und bringt den schon angesprochenen Schwarzmetall-Effekt ins Spiel.
Die Riffs sind teilweise recht frickelig, aber auch an gefühlvollen Melodien wie in "Sentimental Vultures" wird nicht gespart. Ich stelle mir jetzt sentimentale Geier vor, auch recht lustig.
"Taller Walls And Stronger Cages" beginnt mit einem stampfenden, fast BLACK SABBATHesken Riff und müdet dann in eine stampfende Walze, die ähnlich wie ASPHYX oder BOLT THROWER alles plattmacht, und dies wieder garniert mit technischen, an DEATH erinnernde Gitarrenparts und schwarzmetallischem Gesang.
Das Finale von "Coils" erinnert dann wiederum etwas an EMPEROR, die ja gegen später auch kaum noch dem Black Metal als zugehörig zu betrachten waren.
Gut, im Ganzen braucht die Mucke ein paar Durchläufe, denn irgendwie wiederholen sich die Ideen mit den songinternen Stilwechseln. Das ist machmal fast etwas zuviel des Guten, und am besten finde ich NOUTAJA, wenn sie mal so richtig fies losbrezeln, wie in "Born Unto Hawthorns", obwohl auch hier die verträumten Melodien auftauchen, die teilweise mit Dissonanzen etwas die Wucht aus der Mucke nehmen.
Dennoch, trotz meines Gemeckers, ist den Finnen ein recht annehmbares erstes Lebenszeichen geglückt, welches durchaus seinen Reiz hat, dem man die Bemühung anhört, nicht zu einer "Klingt-Wie"- Band zu werden, und welches auch ein recht großes Potential offenbart. Man darf gespannt sein, was uns aus dem Hause NOUTAJA noch erwarten wird. Wer ein Gemisch aus modernem Death Metal, Black Metal und einer progressiv/melodischen Schlagseite als interessant erachtet, sollte hier mal seine Löffel antackern.
Anspieltipp: "Born Unto Hawthorns"
---
Bewertung: 8,3 von 10 Punkten
---
Tracklist:
01. Deicidal Tendencies
02. Sentimental Vultures
03. Taller Walls And Stronger Cages
04. Born Unto Hawthorns
05. Coils
---
---
---