CD-Reviews E-G
EMBRYONIC DEVOURMENT - Heresy of the highest order (2022)
(7.629) Stephan Haese (7,0/10) Tech Death Metal
---
---



Es ist bereits das vierte Album, welches die US-Amerikaner aus Kalifornien, deren letztes Album "Reptilian Agenda" jedoch schon aus dem Jahre 2014 stammt, nun unter das Volk bringen wollen. Gleichzeitig feiert man das Labeldebüt bei Unique Leader und reiht sich neben Helden, wie DEEDS OF FLESH, SPAWN OF POSSESION und DECREPIT BIRTH ein.

Nun ja mit "Heresy of the highest order" haben uns die Jungs definitiv ein interessantes Stück Todesblei vor die Füße geworfen. Im Grunde sehr einfallsreicher technischer Death Metal, welcher mit allen möglichen Rhythmen und kreativen Momenten ausgestattet ist. Für meinen Geschmack leider schon zu viel des Guten.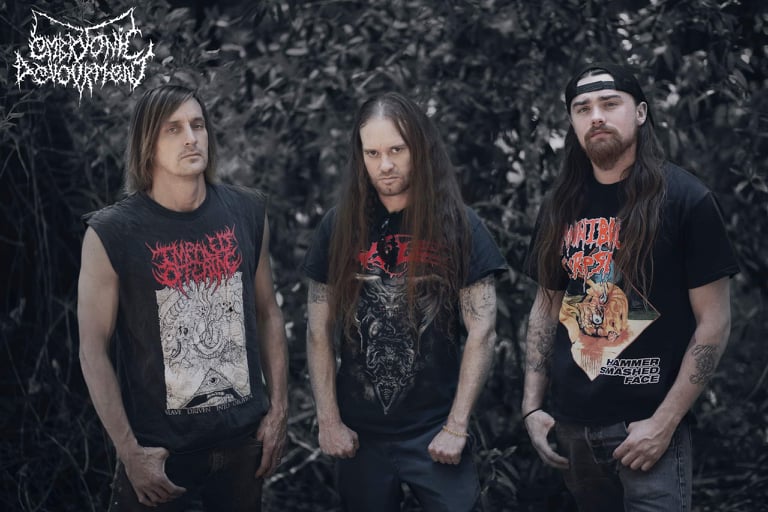 Sicher muss man kein Mathematiker sein, um das Ganze nachzuvollziehen, aber bedauerlicherweise bleibt bei dem Ganzen hin und her Gefrickel auch nicht besonders viel hängen. Der Titeltrack "Heresy of the Highest Order" oder "It Began with Lizards" sind da noch die verdaulichere Kost. Bei aller Brutalität und hirnzermalmender Strukturen, fehlt irgendwie dennoch die Klasse, die Schwergewichte wie ORIGIN oder CEPHALIC CARNAGE ausmachen.

Gerade in Momenten, wie bei "Manipulation Of The Senses", wenn man versucht eine wenig Groove unterzubringen, wirkt vieles einfach überladen. Das haben DEATH schon bei Zeiten geschickter hinbekommen. Das die Jungs was können steht außer Frage, es mangelt einfach nur an ein wenig Struktur, um mich vom Hocker zu reißen. Manchmal ist ein bisschen weniger, auch einfach mehr.
Fakt ist, dass hier definitiv keine Gefangen gemacht werden und dem geneigten Hörer unweigerlich eine enorme Flut an technischen und destruktiven Riffs nur so über die Visage fegen. Es bleibt eben nur nichts hängen. Freunde der bereits erwähnten Kapellen können gern ein Ohr riskieren, werden vermutlich aber zu einer ähnlichen Schlussfolgerung kommen. Luft nach oben ist auf jeden Fall vorhanden und vor allem wünschenswert.

Anspieltipps: "Heresy of the Highest Order" und "The Lucid Dreamer"
---
Bewertung: 7,0 von 10 Punkten
---
01. Cathy O'Brien Experience
02. Heresy of the Highest Order
03. High Clearance Code Access
04. It Began with Lizards
05. Manipulation Of The Senses
06. Murder of the Ancients
07. Never Ending Human Misery
08. The Lucid Dreamer
---
---