---
---
H-J
HORIZON IGNITED – Torwards The Dying Lands (2022)
(7.892) Clemens (4,0/10) Melodic Death Metal
---
---
­
­­
Die noch recht junge finnische Truppe HORIZON IGNITED veröffentlichte Anfang des Monats ihren 2ten Longplayer "Towards The Dying Lands" und dies sogar direkt unter dem grün schwarzem Banner von Nuclear Blast Records. Und wenn man die 2 bisherigen Corona Jahre abzieht kann man wirklich noch von einer jungen Truppe reden, welche sich 2017 gegründet hat und für die es sich bestimmt wie ein aufstieg in den Olymp des Metals angefühlt haben muss, wenn das 2te Album gleich über so ein großes Label herauskommen darf.
Aber dies ist mitunter kein Garant für ein 10 von 10 Punkte Werk, im Gegenteil, es wirkt fast so, als ob das Label aus Donzdorf hier mit einer noch recht kleinen Band die Fühler weiter austrecken möchte, ob im Bereich des Standard 0815 Melo-Death Metal noch was zu holen ist, bzw. ob man sich die Junge Truppe vorab sichern sollte oder nicht. Denn auch wenn die musikalische Produktion des Album schon recht ordentlich ist, so springt der Funke überhaupt nicht über.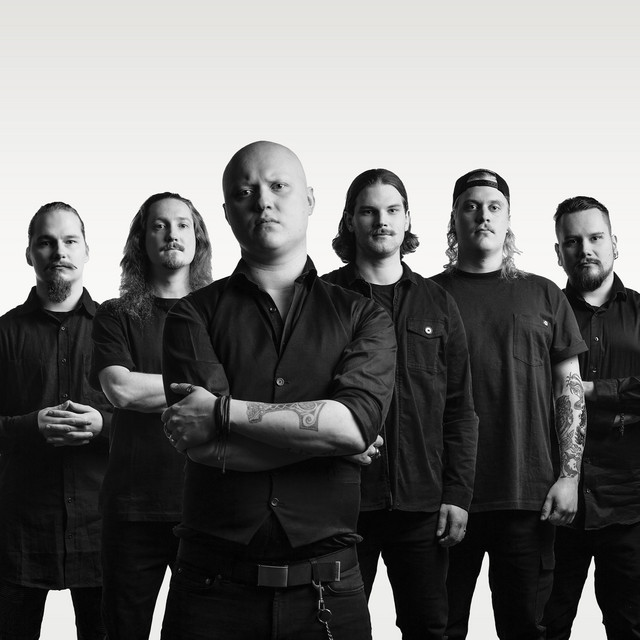 Eventuell liegt es an der Übersättigung mit dem Konsum des Genres, oder das es einfach zu viel, zum Teil eben bessere Konkurrenz in diesem Bereich gibt. Gut klingen, mit ein paar netten Ideen reicht da jedenfalls nicht mehr aus, selbst wenn musikalisches Talent ebenso noch obendrauf kommt. Aber beim Hören der guten 40 Minuten bleibt so gut wie kaum was hängen, außer das man sagen kann: "kann man mal hören, ist jetzt nicht schlecht". Für eine wirkliche Empfehlung reicht dies aber nicht aus. Klar gibt es hier nette Riffs und den ein oder anderen schicken Melodielauf, untermalt mit mal Mid-Tempo oder doch schnelleren Drumbeats. Und natürlich wird hier schön und abwechslungsreich gegrowlt in Kombination mit Screams und Cleangesang. Aber allein die letzten beiden Sätze kennt man schon gefühlt von jeder Band dieser Richtung um diese zu beschreiben.
Die Musik ist gut, es fehlt aber an Eigenständigkeit, oder dem bandeigenen Wiedererkennungswert, der die Truppe von all den anderen abheben soll. "Towards The Dying Lands" klingt einfach wie die Vorband XY, welche zwar gut zum lang erwartenden Hauptact passt, damit man sich in Kombination mit 1 2 Kaltgetränken warm schunkeln kann, aber am Ende des Konzerttages nur kaum, bis gar nicht in Erinnerung bleiben wird.
Ich glaube die Band muss einfach noch reifen, sich weiterentwickeln, von dem ein oder anderem Idol sich loslösen, um dann ihr wirkliches "Ich" zu finden. Spätestens dann kann daraus was werden, denn die Werkzeuge haben die 6 Mannen von HORIZON IGNITED definitiv, sie wissen sie evtl., bzw. meiner Meinung nach, nur nicht richtig einzusetzten.

Anspieltipps: keine ……

---
Bewertung: 4,0 von 10 Punkten
---
Tracklist:
01. Beyond Your Reach
02. Servant
03. Torwards The Dying Lands
04. End Of The Line
05. Guiding Light
06. Reveries
07. Aching Wings
08. Death Has Left Her Side
09. Fall Apart
10. Eventide Of Abysmal Grief

---
---
---
---
---