---
---
A-D
DAWN OF DESTINY – Of Silence (2022)
(7.841) Maik (8,0 /10) Symphonic Metal
---
---



Es zeigt schon eine ordentliche Portion Mut und Selbstbewußtsein, eine Platte mit einem Acht-Minuten-Stück zu beginnen, und dieses dann auch noch derart vollzupacken, daß "We Are The Voice" allein schon wie ein kleines Album herüberkommt. Und ehrlich gesagt, wenn ich nicht jeden Track in der digitalen Promoversion einzeln anwählen müßte, hätte ich nach Ende des Songs wohl den Eindruck gehabt, schon die Hälfte des neuen Albums der Bochumer DAWN OF DESTINY gehört zu haben.
"Of Silence" nennt sich das gute Stück, und enthält 13 Songs, die sich einer weiten Bandbreite erfreuen. Wie schon das Vorgängeralbum besticht die Musik durch den Kontrast harmonisch ruhiger Elemente und teils recht harten Riffs. Gesanglich wird Jeanette Scherff nun vermehrt von Jens Faber unterstützt, aber nicht auf die ausgeleierte 'Beauty And The Beast'-Schiene mit bösigem Growling, sondern mit Klargesang, der mich ab und an an ANTICHRISIS erinnert, besonders beim Song "Burning Heart", bei dem das am stärksten zutage tritt.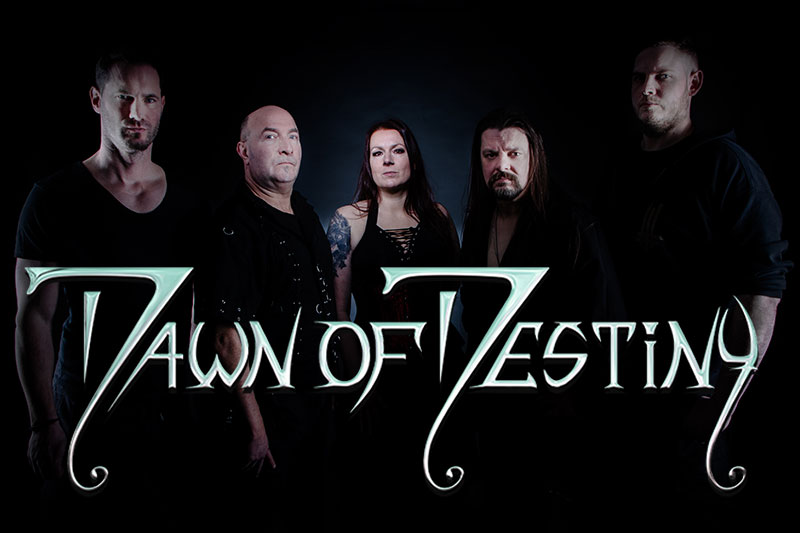 Natürlich bieten DAWN OF DESTINY die ganze Bandbreite des Sinfonischen Metalls, epische Chöre und bombastische Orchestration gehören ebenso dazu wie eingängige Gesangslinien und viel Melodien. Dazu muß man allerdings anmerken, daß die Band echte Streicher angeheuert hat, anstatt ausschließlich auf elektronischen Tastenzauber zurückzugreifen.
Auch stilistisch fächern sich DAWN OF DESTINY weit auf. Beispielsweise hat "White Mystery" einen starken Folk/Shanty- Einschlag, der mit hartem Riffing einherkommt, dann aber urplötzlich in gefühlvolle, pianounterlegte Gesänge umschlägt. Gegen Ende kommen dann auch mal wieder kurz die Growls zum Einsatz.
Natürlich durfen bei einem solchen Album auch die Balladen nicht fehlen, und so haben DAWN OF DESTINY auch da geliefert. Besonders das liedhaft-verträumte "Little Dflower" sticht da heraus.
Natürlich sind dreizehn Songs auf einem Album eine ziemliche Ladung, besonders, wenn diese dann auch noch recht vollgepackt sind, was dann teilweise ein paar Längen offenbart wie das doch etwas zu liedhaft geratene Fast-Titelstück "Silence" oder das etwas zu lang ausgewalzte "Run". Gut, da das Album am besten in Ruhe zu genießen ist, hat es wohl auch Vorteile, wenn man sich über eine Stunde lang entspannen kann. Mir persönlich ist es auf Dauer etwas zu viel Piano und etwas zu wenig harte Stromgitarren, aber wer auf derartige Musik abfährt, kann im Grunde nichts falsch machen, wenn er/sie sich zu einer Kaufentscheidung entschließt.
Wohltuend ist die Tatsache, daß DAWN OF DESTINY nicht den üblichen Weg des Symphonic Metal gehen, sondern eher eine Annäherung an die Klassik und sogar an das Musical anvisieren. Außerdem hat Jeanette eine tragende Stimme und vermeidet den Trällerelseneffekt, den so manche Möchtegernsopranistinnen in diesem Genre erzeugen. Auch wirkt das Album, trotz einiger fröhlich anmutender Parts, doch eher etwas melancholisch und besinnlich.
Anspieltipp: "Judas In Me" und "White Mystery"
---
Bewertung: 8,0 von 10 Punkten
---
Tracklist:
01. We Are Your Voice
02. Judas In Me
03. Childhood
04. Say My Name
05. White Mystery
06. Not The Way It Is
07. Little Flower
08. Burning Heart
09. Silence
10. Run
11. The Curse
12. Inner Voice
13. This Is Our Legacy
---
---
---
---
---